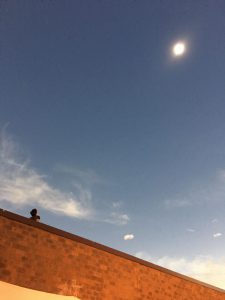 While more than 6500 people were in UNK's Cope Stadium, Art and Design students and faculty gathered together in the courtyard of the Fine Arts Building to stare up into the sky for an awesome (albeit brief) celestial event. Even though it was the first day of classes for the semester, it was announced that UNK students, faculty, and staff would have the afternoon off for what has been called the Great American Eclipse.
The Art & Design department celebrated by projecting Georges Méliès' Le Voyage dans la Lune on the courtyard wall as the moon inched toward covering the sun. At 12:57:30 p.m., everyone stared at our totally eclipsed star through black polymer glasses. With the temperature suddenly dropping five degrees, birds singing, and insects chirping, everyone stood in quiet admiration of this rare event.
It was definitely a unique first day of classes. Not since June 8, 1918 has an eclipse been visible across theentire contiguous United States and it hasn't been since 1979 that a total eclipse has even been visible anywhere in the mainland. And though there will be additional solar eclipses in the US in 2024 and 2045, none of them will reach totality in Nebraska. For it so coincide on the first day of classes made it all the more memorable.