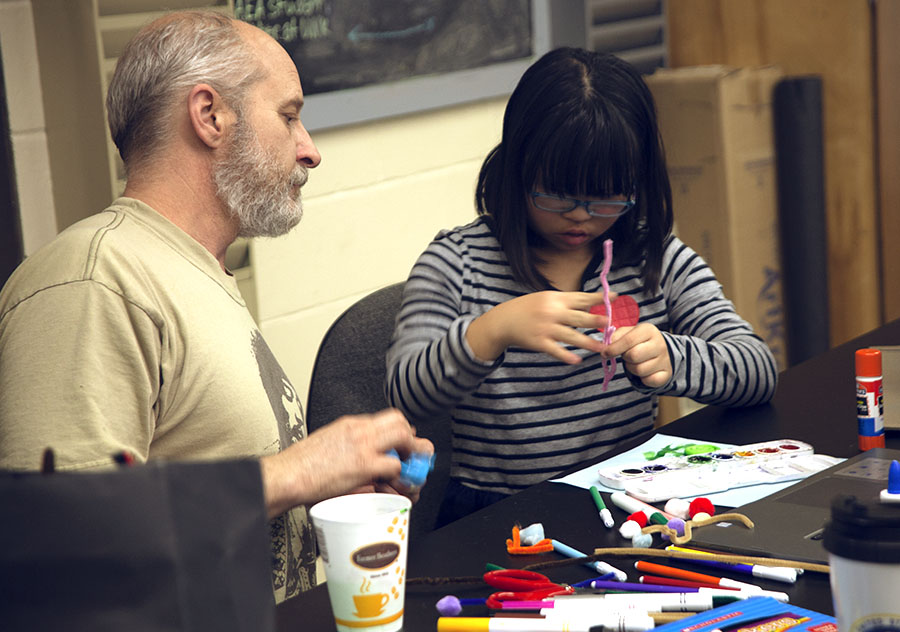 The Bachelor of Arts in Education degree prepares students for a rewarding career teaching art in pre-kindergarten through twelfth grade.
The Art Education program includes a wide range of studio courses to develop creative ability, methodology courses for pedagogical competence and courses for understanding the philosophy behind and psychology of art education.
These comprehensive courses include methods for teaching students with diverse needs and developing integrated curriculums. Students are also required to student teach in PK–12 classroom settings for practical experience.
The final semesters of the program includes an exhibition of the student's artwork and a full semester of student teaching.
BA REQUIREMENTS
General Studies (46 credit hours)
Professional Sequence (23)
Art Field Endorsement Requirements (31)
Art Field Endorsement Electives (8)
Art History Electives (3)
Art Education Professional Requirements (9)
     TOTAL 120 credit hours
UNK's Art Education program has a 98% placement rate with graduates finding employment across the country.
Practical Experience
Art Education students have many opportunities to experience the practical application of what they learn in class by working with PK–12 students through more than 100 hours of direct art-classroom observations and field experiences in local elementary and high schools, art classes offered to preschool students in collaboration with UNK's Early Childhood Education Center, the ArtScool program for underserved students in collaboration with the Museum of Nebraska Art and the Kearney Community Learning Center, and the ArcArt program for students with developmental disabilities in collaboration with the Arc of Buffalo County. Students also spend a full semester student teaching in a PK–12 program.